Hotel Margarita
Excellent service and
in the heart of Sierpe.
At Hotel Margarita, we offer the highest quality service to ensure that you enjoy your stay. Our highest priority is our guests tranquility, and ensuring that they get good rest to keep them energized for their adventurous days. We have been taking care of customers from all over the world for 30 years now, and are the most experienced you'll find in Sierpe! We are also experts at helping our guests find activities to do around the area at affordable prices, so please, reach out to us for our recommendations on the best tours available. We are about a block from river's edge, and we are two blocks from the center of town. This ideal location provides guests with access to both nature and all of the services in town, such as restaurants and grocery stores. We promise, you won't find a better value than us in the entire Osa Peninsula!
Accommodations
Send us an email to reserve your room and mention that you found us through Destination Sierpe to receive a discount!
Contact info for reservations below.
Cabin 2 & 3
Sleeps: 2
Beds: 2 individual
Price: $40
AC
Hot Water
Wifi
Private Bathroom
Communal Kitchen
Free Parking
Fan
TV
Cabin 1 & 4
Sleeps: 3
Beds: 1 queen, 1 individual
Price: $60
AC
Hot Water
Wifi
Private Bathroom
Communal Kitchen
Free Parking
Fan
TV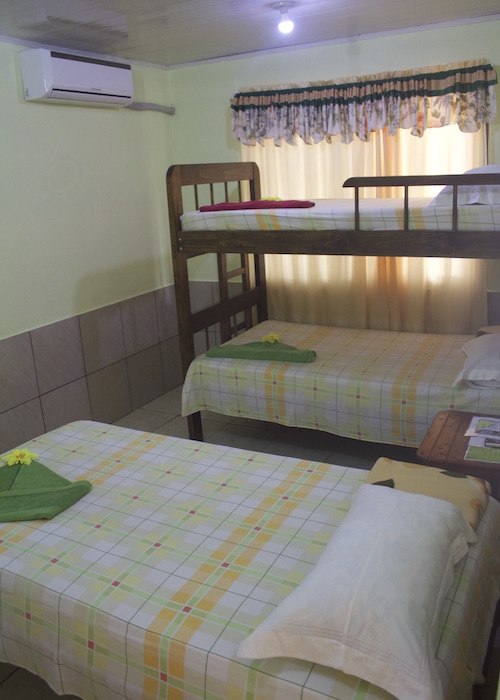 Cabin 5
Sleeps: 3
Beds: 3 individual
Price: $60
AC
Hot Water
Wifi
Private Bathroom
Communal Kitchen
Free Parking
TV
Fan
Cabin 9 & 10
Sleeps: 4
Beds: 4 individual
Price: $80
AC
Hot Water
Wifi
Private Bathroom
Communal Kitchen
Free Parking
Fan
TV
Rooms 3 & 7
Sleeps: 3
Beds: 3 individual
Price: $45
Fan
Wifi
Communal Kitchen
Free Parking
AC
Hot Water
Private Bathroom
TV
Room 2
Sleeps: 2
Beds: 1 queen or 2 individual
Price: $30
Fan
Wifi
Communal Kitchen
Free Parking
AC
Hot Water
Private Bathroom
TV
"Great Place to stay if you are going to or coming from Drake Bay.. comfortable and clean rooms.. really nice owners.. we were even able to store our big backpacks and leave our car there during the two days we went to Drake Bay."